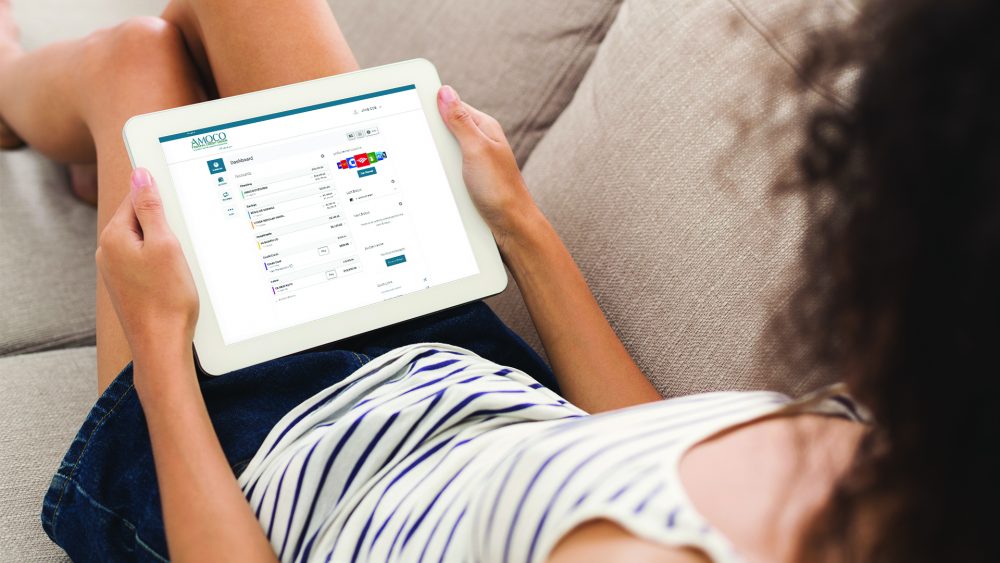 Totally branchless banking has increased lately, but many are still skeptical. With the rise of mobile technology, financial security and digital communication, it's possible to never step foot in a branch again. But you don't have to use a fintech startup with an unproven track history to go branchless: AMOCO offers everything you need.
Simplify your life and live easier with these tips on going branchless.
The Easy Stuff
Try Online Banking and download the AMOCO mobile app. Manage your finances 24-hours a day using our free, fast, and secure Online Banking service. From the comfort of your own home or office, you can transfer funds, pay bills, build a budget, and manage all of your AMOCO accounts and external bank accounts under one login.  Our app is available for Apple and Android devices, this app allows you to view your balance, make transfers and deposit checks. Download the app now.
Follow AMOCO on social media. For important updates, like when to expect new, secure cards or tips on how to save money, social media is a great way to get connected and stay up-to-date. It's like going to see your favorite teller, just without much effort.
The Harder Stuff
Deposit cash. Depositing cash is probably the hardest part of going mobile. Especially if you're traveling, it can be difficult finding a location to securely deposit cash in your checking account. That's why AMOCO is part of the CO-OP Shared Branch network which offers hundreds of credit union locations nationwide where you can access your AMOCO account and deposit cash. We also offer on-site ATMs at select branches that accept cash. These locations include: Bay Colony, Clear Lake, Friendswood, Galveston, Texas City, and Tuscan Lakes. Find a branch location near you.
Get member service through digital channels. Reach out on social media or submit a request via secured email directly from our website or mobile app. You can also always use your smartphone for, gasp, making a phone call.
Apply for loans online. It's as easy as it sounds! Just be sure to keep communication open once you've been approved. You can also open additional accounts, including CDs and Money Market. Apply for a loan online. 
Go paperless with AMOCO
Eliminate your stack of unopened envelopes and enroll in eStatements. By going paperless, you can read your monthly statements and balance your AMOCO account(s) online from any computer or device that is connected to the Internet. Best of all, you can access your account information 24 hours a day, 7 days a week.
Enrolling is easy!
Simply login to your AMOCO account.
Choose View My eStatements from the Account tab and follow the prompts to complete enrollment. It's really that easy!
Of course, you can contact us and we'll be happy to enroll you!
© Copyright Express.Cuna.org, CUNA. All Rights Reserved