Become a Volunteer Official
Volunteering to serve on the Board of Directors can be an rewarding experience. Volunteers will gain valuable knowledge of the credit union and represent fellow credit union members.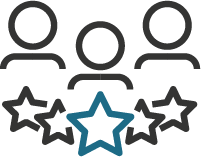 Interested In Serving?
Join our leadership and help make a greater community.
AMOCO differs from other financial institutions in that the members of the credit union are the elected owners of the credit union. Our members/owners govern the credit union via a volunteer Board of Directors, elected by and from the credit union's membership. In addition, the Board of Directors appoints fellow members of the credit union to serve on the Supervisory and Governance Committees. Combined, these volunteers ensure that the members' assets are safeguarded and that management adheres to laws, regulations, policies, and procedures.
General Qualifications for Volunteer Officials:
All Volunteer Officials must be an AMOCO member in good standing. They should not have been convicted of any criminal offense involving dishonesty. Volunteer Officials must be unselfish, willing to act for the benefit of the members, and sincerely interested in helping members resolve their financial problems as permissible through services offered by the credit union.
The deadline for accepting general applications has passed. However, members may seek a nomination for a Board of Directors position through the petition process established by AMOCO's bylaws. This process requires a petition be signed by 500 members in order to be considered for a Board position. Applications for nomination by petition will be accepted through December 9, 2019.